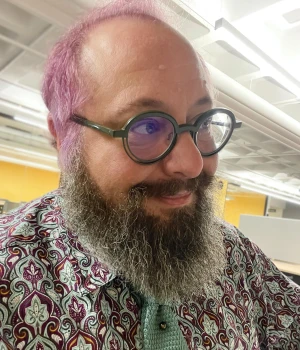 Director, LGBT Studies Program
Associate Professor, Sociology
Education
PhD, University of California, Berkeley 1999
MA, University of California, Berkeley 1994
JD, Harvard Law School 1990
BA, Yale College 1986
Office Hours
Tuesday & Thursday 3:00-4:00pm
Teaching Schedule
| Course Num | Title | Meets | Syllabus |
| --- | --- | --- | --- |
| SOCIOL 102-201 | Solving Social Problems | No Meeting Pattern | |
| SOCIOL 255-001 | Sociology of Sexuality | TR 1pm-2:15pm | |
Courses Taught
SOCIOL 102: Solving Social Problems
SOCIOL 250: Sex and Gender
SOCIOL 255: Sociology of Sexuality
SOCIOL 444 (U/G): Sociology of The Body
SOCIOL 928: The Sociology of Sex and Gender
Research Interests
Sociology of the Body

Sex and Gender

Sociology of Sexuality

Intersectional Identity

Science, Technology, and Medicine Studies
Prof. Costello engages in research in embodied experience and interventions into embodied identity. In one line of research, he studies the regulation of sex and gender through medical interventions into the bodies of intersex and transgender people. In another, he examines embodiment in virtual settings. In a longitudinal study of avatar embodiment in the virtual world of Second Life, he studies how identification with the avatar body facilitates experiences of sensation in virtual flesh, and the therapeutic uses to which people put their avatars.
Selected Publications
Costello, Cary G. "Understanding Intersex Relationship Issues" Expanding the Rainbow Boston: Brill/Sense Publishers. (2019): 231-246 .
Costello, Cary G. "Intersex and Trans* Communities: Commonalities and Tensions" Transgender and Intersex in the Arts, Science and Society Ed. Horlacher, Stefan. NYC: Palgrave Macmillan US. (2016): 83-113.
Costello, Cary G. ""Trans and Intersex Children: Forced Sex Changes, Chemical Castration, and Self-Determination" Women's Health: Readings on Social, Economic and Political Issues Ed. Gathman, Cabell. Dubuque, IA: KendallHunt Publishing Co.. (2016).
Costello, Cary G. ""Not a "Medical Miracle": Intersex Reproduction and the Medical Enforcement of Binary Sex and Gender"" Queering Maternity and Motherhood: Narrative and Theoretical Perspectives on Queer Conception, Birth and Parenting Ed. Gibson, Margaret F. Branson, ON: Demeter Press. (2014).
Costello, Cary G. "Sexuality in a Virtual World" Sex Matters 4th Ed.. Ed. Strombler, Mindy, Baunach, Dawn M., Simonds, Wendy, Windsor, Elroi J., and Burgess, Elisabeth O. New Jersey: Pearson Education. (2013): 178-185.
Costello, Cary G. "The Real Me: Selfhood in the Virtual World" Cult Pop Culture: How the Fringe Became Mainstream, V. 3 Ed. Batchelor, Bob. Praeger. (2011): 187-203.
Costello, Cary G. "Caster Semenya: An Intersex Perspective/ Caster Semenya: Una Perspectiva Intersex" Different Bodies/ Cuerpos Distintos Ed. Almeida, Ana, and Vasquez, Elizabeth. Manthra Editores. (2010): 69-72.