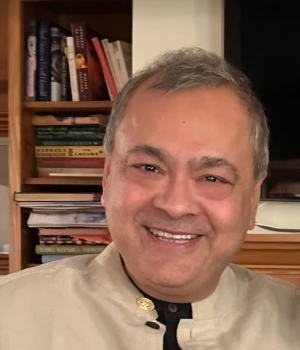 Associate Professor, History
Affiliated Professor, Urban Studies
Education
PhD, University of California, Berkeley. 2002
M Arch, Iowa State University, Ames. 1991
B Arch, University of Bombay, Bombay. 1987
Teaching Schedule
| Course Num | Title | Meets | Syllabus |
| --- | --- | --- | --- |
| HIST 701-101 | Graduate Internship in Public History | No Meeting Pattern | |
| HIST 715-001 | Research Methods in Local History | W 4pm-6:40pm | |
| URB STD 927-001 | Urban Internship | No Meeting Pattern | |
Courses Taught
HIST 715

- Research Methods in Local History
Teaching Interests
Urban and architectural history

Housing (US)

Material Culture

Public history

Environmental justice

American cultural landscapes
Research Interests
Public history and

public humanities fieldwork

Urban history and

architectural history

Material culture

American cultural landscapes

Historic Preservation

Immigration and diaspora studies
Related Activities
Director, Buildings-Landscapes-Cultures Field School

Fellow, Society of Architectural Historians
Biographical Sketch
Dr. Arijit Sen is a historian of everyday places and ordinary people. He examines the cultural landscapes of immigrant communities and interprets cities from the bottom up by engaging the voices and histories of urban communities traditionally ignored in official narratives. In 2022 he was inducted as a Fellow in the Society of Architectural Historians.
Sen has directed public history and preservation fieldwork projects in Milwaukee, Chicago, Calgary, and New Orleans. Since 2012 he has directed the Buildings-Landscapes-Cultures field school, a public humanities project that engages students, scholars, and community members in a collaborative exploration and documentation of the history and heritage of Milwaukee's neighborhoods. The field school is currently partnering with the Newark-based Humanities Action Lab to contribute to "Climates of Inequality," a traveling exhibit on environmental justice. In 2008, Sen co-founded the multi-campus-based Buildings-Landscapes-Cultures area of doctoral research on cultural landscapes.
Sen has served as a co-director for the 2022-23 pilot year of Community Powered project, a state-wide Public Humanities initiative of Wisconsin Humanities. He has previously served on the board of directors of the Society of Architectural Historians and the Vernacular Architecture Forum, as a contributor to the Aga Khan Awards for Architecture's Knowledge Construction Workshop, and as a fellow at the Center for 21st Century Studies, University of Wisconsin-Milwaukee, the Center for Advanced Study, University of Minnesota, and the Dumbarton Oaks Research Library and Collection, Harvard University.
Sen has published in journals such as the Winterthur Portfolio, Food & Foodways, South Asian History and Culture, Buildings & Landscapes, and the Journal of Society of Architectural Historians; he has coedited Landscapes of Mobility: Culture, Politics and Placemaking (Ashgate Publishers, UK, 2013 with Jennifer Johung) and Making Place: Space and Embodiment in the City (Indiana University Press, 2014 with Lisa Silverman).
Selected Publications
"Making a Case for Serendipity in Architectural Fieldwork," Buildings & Landscapes 29: 2 (Fall 2022), 36-50.
"Embodiment as a Category of Analysis in Architectural History," In "Roundtable, What Frameworks Should We Use to Read the Spatial History of the Americas?," Journal of Society of Architectural Historians (JSAH) 81:2 (June 2022): 136-139.
"Spatial ethnography of Devon Avenue, Chicago," Buildings & Landscapes 28:2 (2021), 3-24.
"Doing Fieldwork with Community Residents: Mapping Spaces of Everyday Resistance in Milwaukee's Northside Neighborhoods," Future Anterior 15:2 (Fall 2020)
"Contemporary Immigrant Architecture in the United States." The Routledge Companion to Critical Approaches to Contemporary Architecture, Swati Chattopadhyay and Jeremy White (Eds.), (New York: Taylor & Francis/Routledge, 2019).