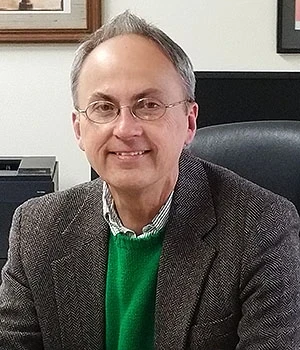 Professor Emeritus, history
Education
PhD, History, Yale, 1982
MA, History, Yale, 1976
MA, History, U. of Kansas, 1975
BA, History, U. of Kansas, 1973
Courses Taught
Hist 102 - Western Civilization: 1500 to the Present
Hist 239 - Poland and its Neighbors, 1795-1914
Hist 329 - The Roman Catholic Church, 1500 to the Present
Hist 330 - The Papacy in History
Hist 346 - Poland and Its Neighbors, 1914-1945
Hist 348 - Poland and Its Neighbors, 1945 to the Present
Hist 448 - Baseball in American History
Teaching Interests
Poland and Central Europe; history of Christianity, esp. Catholic Church; modern Europe; Baseball in American history
Research Interests
Over the course of his career, Professor Pease has devoted most of his research and publication to the role of the Catholic Church in recent Polish history. Current areas of research interest include: the "Jewish revival" in contemporary Poland; soccer in Polish politics and society; and historical symbolism and memorialization of public spaces in Poland.
Related Activities
Editor in Chief, The Polish Review
Member, Board of Directors, Polish Institute of Arts and Sciences of America
Member, Board of Directors (and past president), Polish American Historical Association
Member, editorial board, Polish American Studies
Member, John Gilmary Shea book prize committee, American Catholic Historical Association
Selected Publications
Pease, Neal. "Mighty Son of Poland: Stanislaus Zbyszko, Polish Americans, and Sport in the 20th Century" Polish American Studies74.1 (2017): 7-26.
Pease, Neal H."Stanley Ketchel, The 'Michigan Assassin': The First Polish American Sports Champion" Studia Migracyjne-Przegląd Polonijny40.1 (151) (2014): 119-130.
Pease, Neal H."The Kosciuszko Reds, 1909-1919: Kings of the Milwaukee Sandlots" Polish American Studies61. (2004): 11-26.
Pease, Neal H."Diamonds Out of the Coal Mines: Slavic Americans in Baseball" The American Game: Baseball and EthnicityEd. Baldassaro, Lawrence, and Johnson, Richard A.Carbondale and Edwardsville IL: Southern Illinois University Press. (2002): 142-161.