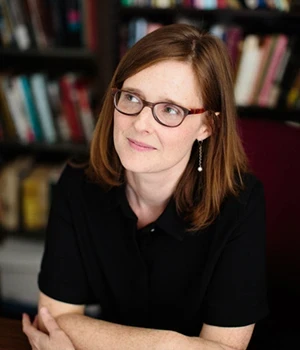 Associate Professor, History
Education
PhD, History, University of California, Berkeley, 2010
MA, History, University of California, Berkeley, 2004
BA, English and International Studies, Yale University, 2000
Courses Taught
Hist 293 - Seminar on Historical Method
Hist 341 - Imperial Russia
Hist 343 - Russia Since 1917
Hist 712 - Historiography and Theory of History
Hist 850 - Play and Popular Culture in Modern History
Hist 940 - History of Mass Media
Teaching Interests
Russian society and politics
Soviet and post-Soviet cultures
Russia and Central Asia
The role of mass media in social and political change
Research Interests
Modern Russia and Eurasia
History and theory of mass communications
Socialist cultures in comparative perspective
Play, leisure, and consumption
Selected Publications
Evans, Christine E., and Lundgren, Lars. No Heavenly Bodies: Cold War Fears and Earthly Networks for Communication by Satellite MIT Press. .
Evans, Christine E.Stirlitz in Washington? What "Stagnation" Tells Us Now 20.2 (Spring 2019) Kritika: Explorations in Russian and Eurasian History. : 365–76
Evans, Christine E., and Lundgren, Lars. "Dividing the Cosmos? Intelsat, Intersputnik, and the development of transnational satellite communications infrastructures during the Cold War" Remapping European Media Cultures during the Cold War: Networks, Encounters, Exchanges Ed. Pajala, Mari, and Lovejoy, Alice. University of Indiana Press. ().
Lundgren, Lars, and Evans, Christine E."Producing global media memories: Media events and the power dynamics of transnational television history" European Journal of Cultural Studies 20.3 (2017): 252-270.
Evans, Christine E.Between Truth and Time: A History of Soviet Central Television New Haven, CT: Yale University Press. 2016.
Evans, Christine E."The 'Soviet Way of Life' as a Way of Feeling: Emotion and Influence on Soviet Central Television in the 1970s" Cahiers du Monde Russe (2015).
Evans, Christine E., and Peri, Alexis. ""How Terrorists Learned to Map: Plots and Plotting in Boris Savinkov's Recollections of a Terrorist and Pale Horse" Petersburg/ Petersburg: Novel and City, 1900 – 1921 Ed. Matich, Olga. University of Wisconsin Press. (2010).
Evans, Christine E.""A 'Panorama of Time': the Chronotopics of Programma Vremia,"" Ab Imperio: Studies of New Imperial History and Nationalism in the Post-Soviet Space 2010.2 (2010).
Evans, Christine E., and Djagalov, Rossen. "Moskau, 1960: Wie man sich eine sowjetische Freundschaft mit der Dritten Welt vorstellte."" Die Sowjetunion und die Dritte Welt. UdSSR, Staatssozialismus und Antikolonialismus im Kalten Krieg 1945–1991 Ed. Hilger, Andreas. Munchen: Oldenbourg. (2009).