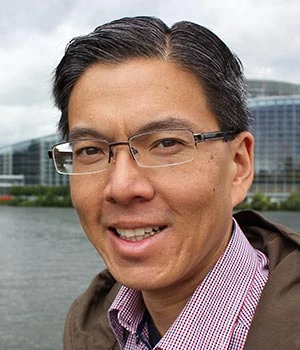 Associate Professor, History
Associate Professor, Center for Jewish Studies
Education
PhD, History, University of California, Berkeley, 2006
MA, History, University of California, Berkeley, 1999
BA, History, University of California, San Diego, 1994
Courses Taught
Hist 248 - The First World War
Hist 249 - The Second World War in Europe
Hist 293 - Seminar on Historical Method, Theory, and Approach
Hist 363 - Germany – Hitler and the Nazi Dictatorship
Hist 371 - Topics in European History (Topic: German Politics, Societies and Cultures Since 1945)
Hist 371 - Topics in European History (Topic: The Habsburg Empire)
Hist 840 - Colloquium on Global History (Topic: Nationhood)
Hist 850 - Colloquium on European History (Topic: Ethnic Cleansings in the Twentieth Century)
Hist 850 - Colloquium on European History (Topic: Nationhood and Exceptionalism)
Hist 940 - Seminar on Global History (Topic: Transnational Total War)
Teaching Interests
German politics and societies
Social and cultural impact of war
Ethnic cleansing in Europe
Research Interests
Modern Central Europe
German-Polish borderlands
Empires, national minorities, diasporas
Special Honors
Office of Research / UWM Foundation Research Award, University of Wisconsin-Milwaukee, 2018. Recognition for excellence in research.
Faculty Distinguished Undergraduate Teaching Award, University of Wisconsin-Milwaukee, 2017–18. Recognition for excellence in teaching.
German History Article Prize for "A Sonderweg through Eastern Europe?," German History Society, UK, 2013\nCommendation, The Fraenkel Prize in Contemporary History for The German Minority in Interwar Poland, The Wiener Library, London, 2012
Fritz Stern Dissertation Prize, Friends of the German Historical Institute in Washington, DC, for best dissertation in modern German history (co-winner), 2007
James H. Kettner Graduate Prize, UC Berkeley Department of History, for best dissertation, 2007
Selected Publications
Chu, Winson. ""Something has destroyed my memory": Stalingrad and Karl Dedecius's Second World War" Imaginations and Configurations of Polish Society: From the Middle Ages through the 20th Century Ed. Kleinmann, Yvonne, Heyde, Jürgen, Hüchtker, Dietlind, Kałwa, Dobrochna, Nalewajko-Kulikov, Joanna, Steffen, Katrin, and Wiślicz, Tomasz. Göttingen: Wallstein Verlag. (2017): 355-375.
Chu, Winson. "Beyond Fantasy: Reexamining Colonial Legacies in the German-Polish Borderlands" Zwischen Geschlecht und Nation. Interdependenzen und Interaktionen in der multiethnischen Gesellschaft Polens im 19. und 20. Jahrhundert Ed. Barelkowski, Matthias, Kraft, Claudia, and Röskau-Rydel, Isabel. Osnabrück: Fibre Verlag. (2016): 279-292.
Chu, Winson. "The 'Lodzermensch': From Cultural Contamination to Marketable Multiculturalism" Germany, Poland and Postmemorial Relations: In Search of a Livable Past Ed. Kopp, Kristin, and Niżyńska, Joanna. New York and Basingstoke: Palgrave Macmillan. (2012): 239-258.
Chu, Winson. "'Volksgemeinschaften unter sich': German Minorities and Regionalism in Poland, 1918-39" German History from the Margins Ed. Gregor, Neil, Roemer, Nils, and Roseman, Mark. Bloomington, IN: Indiana University Press. (2007): 104-126.
Chu, Winson. "Metropole der Minderheit: Die Deutschen in Lodz und Mittelpolen, 1918-1939" Die "Volksdeutschen" in Polen, Frankreich, Ungarn und der Tschechoslowakei. Mythos und Realität Ed. Kochanowski, Jerzy, and Sach, Maike. Osnabrück: Fibre. (2006): 95-111.