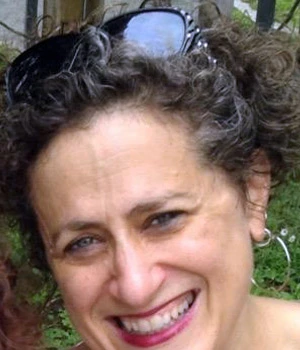 Professor, Dept. Chair, History
Professor, Center for Jewish Studies
Education
PhD, American Studies, University of Minnesota, 1995
BA, Brown University, 1985
Teaching Schedule
| Course Num | Title | Meets |
| --- | --- | --- |
| HIST 373-001 | Topics in Gender and History: History of Witches and Witch-Hunts | MW 11:30am-12:45pm |
| HIST 373G-001 | Topics in Gender and History: History of Witches and Witch-Hunts | MW 11:30am-12:45pm |
Courses Taught
Ethnic 101 - Africans, Europeans and Indian Nations in the Making of American Cultures
Ethnic 102 - Transnational Migration
Hist 600/Ethnic 550 - Immigration and U.S. Popular Culture
Hist 436 - Midwestern Migrations
Hist 419 - Post-1945 U.S.
Hist 800 - Colloquium on U.S. History - Immigration History
Hist 900 - Seminar on U.S. History - Rhetorics of Citizenship
Hist 900 - Seminar on U.S. History - Citizen, Migrant, Nation
Teaching Interests
Comparative Ethnic Studies
Immigration History
U.S. Survey, post-1945
Research Interests
Immigration, immigrant rights
Transnational cultural politics of the Cold War
Diasporic cultural citizenship
Related Activities
Coordinator, Comparative Ethnic Studies Program
Interim Editor, Voces de la Frontera
Editorial Board Member, Nation of Nations Series, New York University Press
Selected Publications
Buff, Rachel I. Into Velvet Bellweather Prize for Socially Engaged FIction- PEN American Center. : 280
Buff, Rachel I. "Itinerancy &Violence: Paul Kochi and Imin No Aiwa (An Immigrant's Sorrowful Tale)" Radical History Review Ed. Paik, A. N., and Mann, Simeon. ().
Buff, Rachel I. Deportation: The Origins of U.S. Policy Ed. Johnson, Benjamin. Journal of the Gilded Age and Progressive Era. .
Buff, Rachel I. Review, Kenyon Zimmer, IMMIGRANTS AGAINST THE STATE Canadian Journal of History. .
Buff, Rachel I. ""Repurposing Immigrant Rights Advocacy"" Deportation in the Americas: Histories of Excluson and Resistance Ed. Zimmer, Kenyon, and Salinas, Cristina. College Station, TX: Texas A&M Press. (): 27.
Buff, Rachel I. Against the Deportation Terror: Organizing for Immigrant Rights in the Twentieth Century Philadelphia, PA: Temple University Press. 2017: 282
Buff, Rachel I. "'We're Here Because You Were There': Refugee Rights Advocacy and AntiSemitism" On Anti Semitism: Solidarity and the Struggle for Justice Ed. Jewish Voice for Peace, . Chicago, IL: Haymarket Books. (2017): 121-128.
Buff, Rachel I. "Domestic Internationalisms, Imperial Nationalisms: Civil Rights, Immigration and Conjugal Military Policy" Routing Diasporas Ed. McGuinness, Aims, McKay, Steve, and Banerjee, Sukanya. Champagne-Urbana, IL: University of Illinois. (2012).
Buff, Rachel I. "Denizenship as Transnational Practice" Public Culture: Diversity, Democracy and Community in the United States Ed. Schaffer, Marguerite. Philadelphia, PA: University of Pennsylvania Press. (2008): 263-272.
Buff, Rachel I. ""The Undergraduate Railroad"" Immigrant Rights in the Shadows of Citizenship Ed. Buff, Rachel I. New York: New York University Press. (2008).
Buff, Rachel I. "Harry Truman, Immigration and Ethnicity at an Imperial Moment" Harry's Farewell: Interpreting and Teaching the Truman Presidency Ed. Kirkendall, Richard. Columbia, MO: University of Missouri Press. (2004).