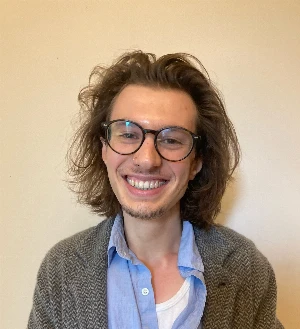 Education
MA, History/MLIS, exp. 2024 Thesis "Communists in Milwaukee during the 'Long 1970s' and 'Black 1980s'"
B.A., History, University of Wisconsin–Milwaukee, 2021
Teaching Schedule
| Course Num | Title | Meets |
| --- | --- | --- |
| HIST 271-201 | The 1960s in the United States: A Cultural History | No Meeting Pattern |
Courses Taught
AIS 263 - North American Indian History Since 1877
HIST 151 - American History: 1607 to 1877
HIST/AIS 263 - North American Indian History Since 1877
HIST 152 - American History: 1877 to the Present
Research Interests
Radical history
American Communist history
History of Radical Milwaukee
Intellectual history of social movements
Related Activities
Archive Fellow, Center for 21st Century Studies (Summer 2022)
Library, Art, and Archives Intern, Milwaukee Public Library (since 2018)
Writing, Speaking and Projects
"Lonely No More! in the Archive," Thinking C21 (forthcoming). "Mapping Radical Milwaukee: A Spatial History of Twentieth-Century Radicalism
Space, Place, and Erasure in the Urban Landscape and Built Environment," https://arcg.is/10zH9P.
Reds Among Reaganites: The Afterlives of American Communism and an Incipient U.S. Third World Left in Milwaukee, 1970–1991." Research presentation at History Research Showcase, University of Wisconsin–Milwaukee Department of History, April 2021. Available online at bit.ly/RARHRS.
"Grounded Ways of Knowing Wisconsin's Black Lives Matter Movement," with Agnes Lopez, Paul Newcomb, and Will Tchakirides. Presentation to Dr. Christina Heatherton's Junior Seminar in American Studies, Barnard College, March 2021.
"Protests and Public Life: Doing Public History in the Present," with Paul Newcomb, Pilar Sharp, and Will Tchakirides. Presentation to high school students in Jeremy Ault and Nicki Ciurro's public history class, Escuela Verde, Milwaukee, WI, February 2021.
Discussant and moderator, "Ronak Kapadia: 'Reimagine Everything: How Insurgent Aesthetics and Queer Collective Care are Transforming Our Worlds.'" Center for 21st Century Studies, University of Wisconsin–Milwaukee, October 2020.
"Hidden History of UWM: 'Penny Rock,' Racial (In)Justice, and the Politics of Historical Memory and Commemoration." Lecture for "Milwaukee Past, Present, Future" online course at University of Wisconsin–Milwaukee, Summer 2020.